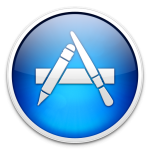 Warning, I'm about to rant about a particularly frustrating issue that may affect some of our customers.
Years ago when I first developed iForum for iPhone, I uploaded it under the App Store account for "Avianware, Inc" – a company started by myself and two other developers who were all developing apps independently but pooled our resources to manage our apps on the App Store. Late last year I also began adding apps to the Mac App Store, ArraySync, ArraySync Client, ArrayShaker and Tilen.
Earlier this year, the original founders parted ways and I filed a new incorporation under a different name, The National Software Laboratory or "NaSoLab". Apple had originally said that the process for changing the name on the app store (where iForum and four other Mac apps are sold) would simply require the faxing of incorporation papers and dissolution papers (of the old company).
Well now, it seems that wasn't the whole story. The dissolution papers for the old company do not make any mention of property and products being transferred to the new company, a stipulation that was not mentioned earlier and is now required. Because of this, Apple is so far refusing to allow a simple name change. Instead, they want us to delete all the apps from the App Store, close our existing account, rebuild them all with different Bundle IDs (the way apps are identified to the app store which I'm not allowed to re-use for whatever arbitrary reason), enroll new Mac and iOS developer accounts, re-upload the apps and wait for the standard approval process.
This means two things. First, all our apps (including iForum) would disappear from the App Store, potentially for a few weeks. Secondly, anyone who downloaded any of our apps in the past will no longer get updates. Instead, you'll have to delete the old version and go re-download the new version.
At this time I'm still waiting for a response from a higher appeal board to give our case special consideration. However, so far it's seeming less and less likely we'll be given an exception. If it comes down to it, I'll be offering ArraySync customers a free personal license to activate the web-download version.
So to all our users, I sincerely apologize for this potential annoyance.
Cross posted on the Info-Mac Blog.