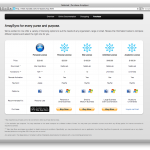 After some feedback from our early customers, I'm pleased to announce several new licensing options for ArraySync server. There are now four licenses offered: Personal License, Site License, Unlimited License, and Academic License. These new licenses allow greater flexibility and economy for organizations seeking large-scale ArraySync deployment. All existing customers have been converted to the Personal License, and may request an discounted upgrade to a higher license by contacting sales@nasolab.com.
Site License allows for installation on 10 computers as is priced at $199.99 – $100 cheaper than buying ten personal licenses. Unlimited and Academic License allow installation on an unlimited number of computers, and are priced at $499.99 and $199.99 respectively. To qualify for an Academic License, you must provide evidence for your organization's academic nature.
We're still awaiting Mac App Store approval. Mac App Store purchases will be equivalent to Personal License, although copies of ArraySync purchased from the Mac App Store do not require (and do not receive) a serial to activate, and are subject to Apple's terms and conditions.
You can activate ArraySync server on as many computers your license allows. You may re-activate on the same computer an unlimited number of times. ArraySync sends NaSoLab an encrypted version of your computer's hardware MAC address, which we use to monitor activations. If you buy a new computer or change your network hardware, you can reset your activation counter for each serial once within any 90-day period.
I'm glad to hear the great feedback from our early customers. I believe these new licensing options will better suit the wide variety of customers we've been having so far, especially any that have considered ArraySync but haven't made a purchase yet due to business licensing concerns.
Please leave any comments or suggestions by posting a comment below.