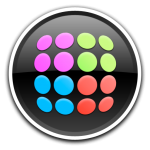 Just posted an update to ArraySync and ArraySync Client. Version 1.0.2 fixes a bug that caused ArraySync to crash if a preset file was opened that linked to a video file that no longer exists (moved or deleted). Now such links are simply ignored.
I discovered this bug while working on version 1.1 (not quite ready yet) and thought it best to release a bugfix update right away. The web download versions are available now. Mac App Store customers will have to wait for Apple's approval.
Also, new toolbar icons!
As always, let us know if you experience any problems with the update!